FCA Recognized Collision
Repair Facility Program
---
The FCA Recognized Collision Repair Facility Program provides customers with a repair provider choice that is Certified. The unique program identifies collision repair operations that have all the critical tools, equipment, training, and facilities to properly repair FCA vehicles to original manufacturer specifications.
Steps to Certification
---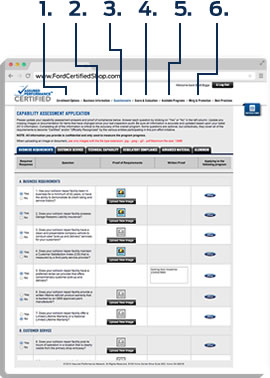 Application - Registration

Review the terms and conditions of participation and select the application option. Then, see the amount due and choose your form of payment.

Business Information

Enter key business information critical for KPI comparisons, program review and tracking.

Business Capability Assessment

This step provides the list of requirements and standards your shop must meet. The question and answer process allows you to assess your capabilities and create a business development plan, if necessary. As you go through the process, you can assess whether or not you will be able to make the grade. If not, you can make any business improvements necessary before scheduling an onsite inspection-audit.

Score & Evaluation

The online system provides you with a score and illustrates any deficiencies in becoming Certified or Recognized. It is part of the ongoing business development process.

On-Site Inspection-Audit

When you are sure you can meet all of the requirements, the next step is to schedule an on-site inspection-audit. The inspector will tour your body shop and ensure proof of compliance with photos and documentation.

Marketing & Promotion

To ensure your shop gains value from Certification or Recognition, various marketing and promotional tools are available. Shops must upload images and logos to personalize the optional marketing materials.
Gain a Competitive Advantage
---
Certification & Recognition Benefits:
Inclusion on the FCA Collision Assistance App available to every FCA Group vehicle owner (Release date: Fall 2014)
Shop Locator - Provides visibility of Certified Shops to vehicle owners searching for a quality repair.
Shop Marketing Material - Point of Purchase and signage differentiates Certified Shops from local competition.
Leveraging the exclusive FCA Recognized status to promote and market your shop.
Official Recognition by other OEM's leverages the same requirements and Certification process, saving you thousands.
Business development process and feedback to ensure your shop continues to have what it takes to properly repair the new generation of FCA vehicles.
Official FCA Recognized Signage for dealers and independent body shops.
---
ENROLL NOW
Click the button above to
begin the process, today!
Click the link above to inform FCA management if you decide to not participate
---
Help is only a phone call away
949.221.0010